The last thing anyone needs after a long drive or hard day at work is to get caught up in traffic. You have to clear just one more hurdle before bolting for the door and ending the day. Add expensive parking costs, shortage of parking space, and restrictive parking enforcement, and you have yourself a recipe for a nightmare.
In fact, parking costs amount to over $73 billion to motorists in the US on an annual basis.,
Most Americans will spend about 17 hours every year searching for a parking spot, says a research firm known as Inrix. When you combine the time wasted in search of parking space, lost fuel running the car back and forth, the annual cost to the average motorist amounts to over $345.
The Inrix report found 10 of the most difficult cities to find parking space in. The report was compiled by including the average cost of parking for two hours in main city centers and the annual number of hours lost while searching for parking space.
35 hours, $9, Detroit
48 hours, $6, Dallas\
50 hours, $6, Atlanta
53 hours, $26, Boston
56 hours, $22, Chicago
58 hours, $10, Seattle
65 hours, $18, Washington
83 hours, $12, San Francisco
85 hours, $14, Los Angeles
107 hours, $33, New York
In order to release accurate data, Inrix collected information from over 6000 drivers in the US, 63 percent of the driver went out of their way to not drive to their destinations if it meant avoiding parking difficulties. 20 percent of the drivers said they completely avoided driving to work because of parking problems, 26 percent of motorists avoided social and leisurely activities if it meant having to avoid parking.
The worst city when it comes to parking is undoubtedly New York, where some parts of the city force drivers to spend over 107 hours per year looking for adequate parking spaces. This adds up to a cumulative annual cost of $2,243 per driver, or about $4.3 billion annually when you combine all the drivers in the city.
This isn't good for the environment and the economy, because motorists are forced to drive around to find adequate parking space, it also doesn't help to curb their carbon footprint.
When you add parking tickets, which for many drivers is unavoidable in big cities such as New York, the total cost to motorists in the 10 most populous cities comes around to a whopping $2.6 billion on annual basis.
Smartphone-based parking solutions like ParkingForMe can mitigate the pain of finding a parking spot by allowing parking spot owners to 'rent' their spaces to drivers. The app allows drivers to search for the right spot, at the right time, at the right location from their smartphone. The app is gaining popularity fast, and it will play a big role in the economy.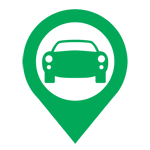 ParkingForMe has the potential to pull the country out of its painful parking epidemic. Learn more by visiting the website here.
Parking For Me will handle all your queries. Just call them at 650-230-8080, or email at info@parkingforme.com, if you have any query.