The parking conundrum in the United States has been gaining pace over a long time now. With population increasing, and cars becoming common stock, there is an added emphasis on parking and what kind of responsibility is expected out of people here.
In a bid to fuse this conundrum, and to look at some of the stats pertaining to it, we will be discussing how certain cities in the United States rank up when it comes to parking spaces per household.
To put our research into perspective, Seattle has roughly 5 parking spaces for every household. This number roughly translates to over 1.6 million parking spaces in the whole city. Interestingly enough, a smaller city in the region, Des Moines, has almost the same number of parking spaces (roughly 1.6 million) but for a lot less households. After doing the math here, we reached the figure of 19.4 parking spaces for every household in this small city. Now, this number for parking spaces per household goes even further for even smaller towns such as Jackson and Wyoming! Both Jackson and Wyoming have a stunning rate of 27.1 parking spaces for every household.
Studying these stats does show that there is a parking conundrum in the bigger cities of the United States. To further put things into perspective, let's study the average parking space covered by a driver in the US. Drivers here usually take over 28 square meters of parking space. This is comparable to the following metrics:
An average apartment within NY
Two studio apartments in Hong Kong
Space for roughly 10 bicycles
What's the Problem?
It wouldn't take rocket science to suggest that parking spaces are under-utilized in much of the United States. When cities with an average of 2 cars per household, have 18 parking spaces per household, then there is a reason for concern. Even with all these parking spaces available, the city center, or the epicenter is still flooded with cars and people barely find any parking spot empty during the rush hours.
What's The Solution?
Digitization, IoT and big data are fast changing the face of parking as we see it. Smart parking is an imperative part of the smart city plan for the future. The smart city of the future highlights the issue of parking and puts it into deeper perspective.
To fully solve this problem of underutilization, we need to have smart resources augment humans in the city planning process. The analytics gathered through these systems can help all kinds of city planners streamline the process and gather an idea of the space that might be needed for parking across the city. Furthermore, they would also have an indication of the hot spots, and what should be done while allocating land for parking in the city centers.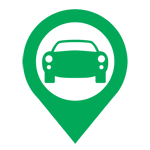 In conclusion, the intervention of technology is absolutely imperative to parking success in cities across the United States today. And, with IoT and big data we have just the technology needed to make it big. With ParkingForMe, you can easily rent out your parking lot to thousands of customers with the powerful on-screen app. Just follow the instructions and start making incredible returns on your investment. Click here to find out more.
Parking For Me will handle all your queries. Just call them at 650-230-8080, or email at info@parkingforme.com, if you have any query.