In recent times, Electric vehicles are gaining a lot of popularity and are growing exponentially. With owning an EV, there's always a concern of charging it especially when you are going out. Not all parking lots provide the facility of EV chargers.
With the ongoing demand of EV, It is definitely a great time to invest in the EV charging infrastructure. Having an EV changer facility in your parking lot will help increase the customer base of your business. So, whether it's an apartment building, government office, school, or a restaurant, having an EV charger is beneficial for all sorts of businesses.
Where to install an EV charger?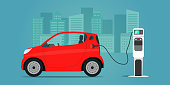 If you are planning to install EV chargers in the parking lot, do keep in mind these three important factors
Electricity plays an important role. Consider spots where it would be easy to get electricity flow.
For more number of EV charging points, it's better to have a cluster of power distribution channels.
Keeping the EV charging facility closer to the entrance of the office or mall would make it convenient for the customers.
Placing Sign Boards of EV chargers for more visibility.
Advantages of having EV charging facility in Parking garages:
Boost your Revenue: It is a great way to increase your revenue. With EV chargers, more number of customers would be attracted which would result in more profits.
Reputation and image: Having EV chargers can help create a positive image for your business. It shows that you are concerned
Be different and let others notice you: Its always good to be unique, and step into something which is yet to become common. This makes you stand out in the crowd.
Let us know what do you think about placing EV chargers in parking lots. You can write to us at info@parkingforme.com.
Parking For Me
Parking For Me provides a digital parking solution. It has an interactive map that provides real-time data and helps users find and book a parking spot. The best part is that this online solution is user friendly and free of cost. Parking For Me will handle all your queries. Just call them at 650-230-8080, or email at info@parkingforme.com, if you have any query.