With such a rapid increase in online resources, it still remains a mystery why so many people don't take advantage of this blessing.
However, parking services are gradually evolving and many of them are using technology to improve their system. One such company is Parking For Me which effectively uses the GPS system to direct the users to safe parking spots.
The GPS System
Honestly speaking, Google Maps and other navigation apps have made our life much easier than before. Whenever we are stuck somewhere and don't know our way out, the GPS system is there for the rescue.
Parking For Me also makes use of this technology to list down empty spots near your location.
Solving the Traffic Congestion Problem
You might be wondering how technology is helping in reducing traffic problems. Well, we will explain to you how it is a blessing in disguise.
Let's understand this in a better way by taking an example. Suppose, you are new to a city and wandering around looking for a safe parking area. In rush hours, it is not easy to find an open spot, especially in a busy part of the city.
The main problem arises when you are not alone. If multiple people are looking for a parking located in the same area it will definitely cause a traffic jam.
Now, let's suppose that you used a parking app before even entering into the city. You enter the location where you want to find a parking area, and viola your search ends immediately.
An app like Parking For Me will list down all the nearby unoccupied spots, and then it is up to you to choose any one of those.
By using technology, you not only limit traffic congestion but also reduce pollution and the extra use of resources. So, you can consider GPS systems as environment- friendly technology as they decrease the production of greenhouse gases.
Parking For Me Makes Effective Use of Technology
By using the internet and the GPS system, Parking For Me efficiently pinpoints the user to a nice cozy spot for parking.
So, what do you need to do?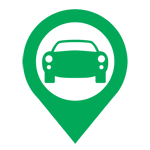 Well, the first thing is that you should check the available parking areas by using the app on your smartphone.
Then you need to choose where you would like to leave your vehicle. Explore from various options before making a final decision.
The prices are also mentioned alongside the empty parking locations. This helps you to make up your mind in advance.
After selecting a spot, the GPS system provides you with proper instructions that guide you to that specific location. It's like traveling with a local guide. You just have to follow the clear directives.
Parking For Me will handle all your queries. Just call them at 650-230-8080, or email at info@parkingforme.com, if you have any query.